THE CITIES by Eng Rithchandaneth, Prak Dalin, Sao Sreymao
February - April 2020
The exhibition brings together three contemporary artists, Eng Rithchandaneth, Prak Dalin and Sao Sreymao. The title, The Cities, is inspired by the body of their work. The exhibition pays attention to the practice of these emerging artists and highlights their concern and close relationship with what is currently happening and will happen in their cities and country. It also explores the different ways artists create their works through photographs, sculptures and installation.
In the gallery, we create a conversation between artworks. The series of Merge by Prak Dalin features: one hanging installation, one floor-standing sculpture and two sculptures displayed on a stand. Her sculptures utilize construction materials, which reflect the growth of the country and the impact of the intertwined development of nature and humans. Dalin explores the construction of myths and how they are fueled by interpretations.
Black Seaweed by Eng Rithchandaneth features four sculptures displayed on stand. Inspired by her previous work, Parasite, she developed this new series based on recent research trying to understand how best to use materials. Two of her sculptures look like a snag tree and the mushrooms that grow on it. The other two are made of layers of wood-ear mushrooms. This shows the artist's willingness to allow her work to evolve according to the material's qualities and natural environment, reflecting the current economic development landscape.
Sao Sreymao presents six photographs. She uses photography of the city combined with digital layering to create stamps of the cityscape. She expresses the anxiety emanating from the city's transformation, its loss of connection with nature, and yearns for a better thought out version of her city. In this exhibition, her focus has been on the city's daily life, questioning the reality and fiction of the "image" through humor.
In conclusion, my curatorial approach and the artists in this exhibition are interested in the artistic expression, reflection and question regarding the development of the city, not just in our home country but globally. The exhibition shows the viewer that there is always an element of imagination and falseness hidden behind the representation that surrounds us.
Meta Moeng, Art Curator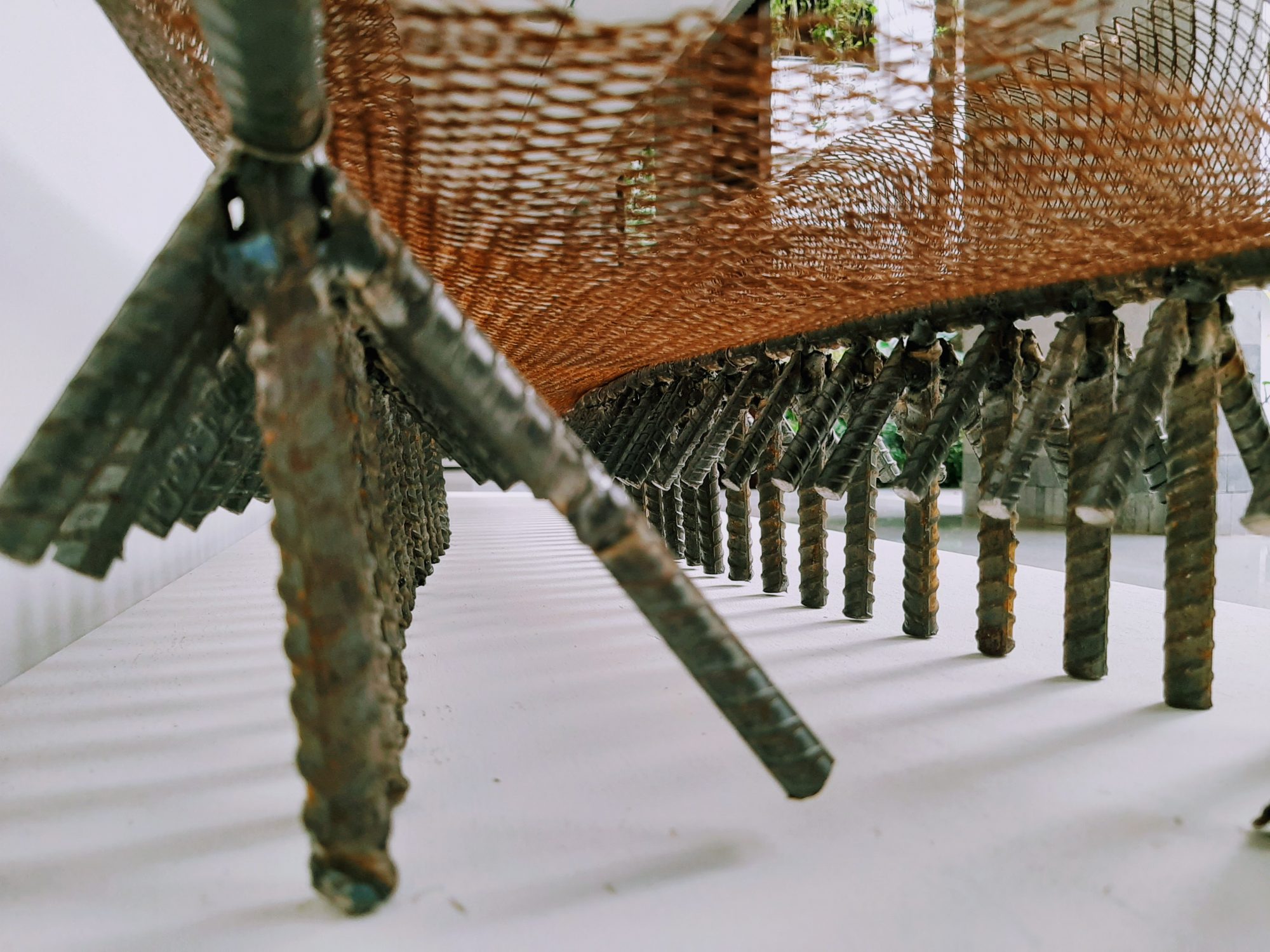 "THERE IS ALWAYS AN ELEMENT OF IMAGINATION AND FALSENESS HIDDEN BEHIND THE REPRESENTATION THAT SURROUNDS US". META MOENG
THE SHADOW OF CHANGE II by YIM Maline
October 27, 2019 - January 31, 2020
Treeline Gallery is pleased to present Yim Maline's first solo exhibition in the gallery, The Shadow of Change II. This exhibition features four tissue paper sculptures and ten mixed media works, wall-mounted paper works with many layers.
The title of this exhibition is continuing her series from her solo exhibition in Singapore with Richard Koh Fine Art, The Shadow of Change. For The Shadow of Change II, her works are inspired by her observations and feelings during a recent family trip to the rapidly transforming province of Kampong Som, which is a hotspot for foreign investment and construction in Cambodia, inspiring for Maline a reflection on identity and what is happening in her home country and also for the global environment.
The artist's ten drawings are inspired from the life-cycle and the nature around her. These drawings are displayed in specially made frames with two layers of glass; one layer in front and one layer at the back, to reflect and reveal the volume of the body of works. At the same time, the four sculptures, titled Sela (Rock), Sam Nol (Remnants), Changkom (Cluster), and Rolok (Waves), are inspired by the waves of life and the changes in society that have significant effects on nature. The artist creates imaginary forms of things she saw during her trip which were then stored as images in her head; these forms are in fact connected to Maline's internal state of mind, and they document this as witnesses to those complexities and concepts in her work.
"CHANGE IS SOMETIMES GOOD, AND SOMETIME IT ISN'T GOOD; IT DEPENDS ON THE SHADOWS AND EFFECTS OF CHANGE" - YIM MALINE
TI PRASAP
July 21 - Sept 30, 2019
The third exhibition at Treeline Gallery is a collaboration between Treeline Gallery and private collector Larry Strange, bringing together a collection of cross-disciplinary works from artists Chan Dany, Chhim Sothy, Khchao Touch, Khvay Samnang, Leang Seckon, Meas Sokhorn, Mil Chankrim, Oeur Sokuntevy, Sopheap Pich, Sao Sreymao, Svay Ken and Vandy Rattana.
The exhibition title comes from the title of Larry Strange's collection catalog, "Ti Prasap", which is closely translated in English as "confluence" or "where streams meet". Many streams come together in these works - traditional and modern, figurative and abstract, urban and rural, personal and political, younger and older generations, and various media, from oil painting to watercolour, ink drawing, rattan, photography, and­ sculpture. The diverse practices of the artists selected for this exhibition reflect not only the exploration of their own contested histories but also of current power structures, economic development and people's everyday lives. 
IT PROVIDES A HISTORICAL REFLECTION ON CAMBODIAN CONTEMPORARY ART THAT CONTINUES TO GROW AND RESONATE LOCALLY AND INTERNATIONALLY." - VUTH LYNO
Learning From the Past: The Vann Molyvann Project
April 7 – June 30, 2019

In collaboration with The Vann Molyvann Project, Treeline Gallery presents a unique exhibition. This offers the opportunity to see for the first time rare models by The Vann Molyvann Project all together, including their most recent creation, a model of the Sangkum Reastr Niyum Exhibition Hall, which has just returned from Korea. The title of the exhibition, Learning From the Past is inspired by Vann Molyvann's words, which he often repeated while talking with students and researchers. The exhibition consists of photographs, drawings and twelve models; each model represents one building typology in which Vann Molyvann worked. Drawings, as well as photographs sourced from private collections, give viewers a glimpse into the scale and scope of these projects.
"New buildings should bring tradition and heritage back to life." - Vann Molyvann
FACE FORWARD
January 26 - March 31, 2019
Treeline Gallery's first group exhibition, Face Forward, pays attention to the past and looks forward from now to the future. The exhibition features artworks by Sopheap PICH, THANG Sothea, NOV Cheanick, Asasax, and HKA & Partners.
Each of the featured artists address the past through their practice of  contemporary art, highlighting questions regarding consumption and production. Some of the works reflect the transfer of knowledge, exposing a process that is usually reserved for the artist's studio. These artists are  active at a time that has a completely different precondition to that of their forbearers. They have their roots in history in different ways, each telling their story uniquely, and making their artworks come alive in their own ways.
By bringing together Cambodian artists from different generations and with divergent practices, this exhibition in the historic city of Siem Reap invites a special reflection on these various connections. The selection of works in the exhibition are from the collection of Treeline Urban Resort, and the collections of the artists.
"I LOVE THE ART, ARCHITECTURE, HISTORY OF ANGKOR. BUT THIS IS THE NEW GENERATION. ANGKOR SHOULD INSPIRE, NOT STOP US. NEVER RESTRICT US." -THANG SOTHEA